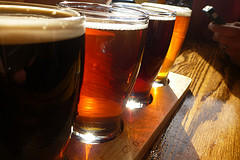 Dacha Beer Garden is a favorite among D.C. locals. This dog- and kid-friendly hotspot offers a range of German, Belgian, and American brews, as well as a strong food menu.
Try pairing a crisp, lively kolsch with Hungarian spicy bratwurst and house-made sauerkraut. Or sip on a chocolaty, malty dopplebock as you work your way through a grilled veggie skewer with a side of garlic and dill sauteed potatoes. All beers can be ordered by the pint or in traditional boot-shaped glasses that you can even purchase to take home with you if you fall in love with their fun, jaunty shape. And if beer's just not your thing, know that Dacha offers a nice wine and cider selection, too.
Whatever you order, half the fun is relaxing in Dacha's plentiful open-air seating (with heat lamps in cooler weather), so be sure that you and your friends from Hodge on 7th arrive with time to linger.
Dacha Beer Garden
1600 Seventh Street Northwest
Washington, DC 20001
(202) 524-8790
dachadc.com
by hodge
September 19, 2014 | No Comments