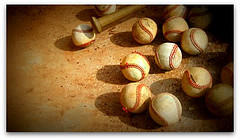 The Phillies are coming to town.
Many of us in the DC area are originally from Philadelphia. If that's you, stop reading now. But if you're from elsewhere — or if, perish the thought, you haven't been to Nationals Park before — let us tell you what that means: rivalry.
Philly invades our town for a few days. Nationals Park is such a sea of red that you half expect the Phillie Phanatic himself to shoot hot dogs at us. (Yes, he does that.)
They rubbed it in our faces for awhile, but now the tables are turned and the Nationals are atop the National League East. Don't miss classic baseball near Hodge on 7th this weekend; come cheer for our guys!
by hodge
July 28, 2014 | No Comments