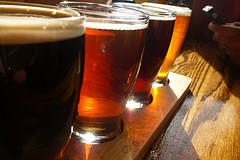 Offering 555 beers, (5 cask beers, 50 drafts, and 500 bottles), this gastropub near Hodge on 7th is more than your average neighborhood bar. Sidle up to the bar and peruse their vast list of drink offerings. Their menu lists not only the beer name and brewery, but also the region, glass type, and temperature at which it is served. Some of the choices are as inexpensive as $6; others cost more, with some of the most rare options checking in at around $70.
Churchkey also offers a curated selection of bar snacks. Regulars rave about the tater tots and the arancini balls, made with corn, favas, manchego, and lemon thyme. For more substantial eats, you can try one of their hot plates or flat breads. Gluten-free diners will be pleased to find that many of Churchkey's dishes can be made without gluten.
Visit Chuchkey's website to learn more about this Washington gastropub!
Churchkey
1337 14th Street NW
Washington, DC 20005
(202) 567-2576
www.churchkeydc.com
www.yelp.com/biz/churchkey-washington
by hodge
August 29, 2014 | No Comments