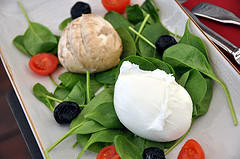 Whether you're looking to pick up your morning cup of joe on your way to work, or you want to sit down and catch up with some friends from Hodge on 7th over lunch, DC locals know that Big Bear Cafe is a good choice.
This popular cafe and coffee shop is well known for its expertly pulled espresso drinks and its breakfast choices that range from freshly baked pastries and house-made granola to grilled egg and cheddar sandwiches. The lunch menu at Big Bear Cafe is focused on fresh, locally sourced ingredients and features light and refreshing dishes like the caramelized onion-topped pear and goat cheese salad, as well as heartier options like the hot pork belly pastrami sandwich with sauerkraut, Russian dressing, and gruyere, all sandwiched between thick slices of house-made rye.
Beyond the quality of the menu, however, Big Bear Cafe is known for its pleasant, rustic-chic atmosphere and beautiful outdoor patio space that's typically bustling during mild weather.
Big Bear Cafe
1700 1st Street Northwest
Washington, DC 20001
(202) 643-9222
www.bigbearcafe-dc.com
by hodge
December 18, 2014 | No Comments