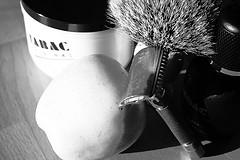 Although the salvaged antique church pew sitting in the waiting room might suggest otherwise, Barber of Hell's Bottom is definitely not your grandfather's barber shop! This barber shop near Hodge on 7th offers modern cuts and grooming in a historically-minded space, and this dichotomy is a crucial element of the experience.
Here, you can expect hair cutting, straight razor shaves, and beard trims, all performed in an old-timey storefront with vintage tile floors, Edison-style light bulbs, antique mirrors, and whitewashed brick walls. In fact, even the name of this barber shop is vintage: "Hell's Bottom" is a historic name for the neighborhood that's no longer in use.
You can be sure, however, that you'll leave this one-of-a-kind shop with a decidedly modern look, as the staff is full of edgy, eclectic young barbers and stylists—and the clientele at Barber of Hell's Bottom tends to skew young.
Barber of Hell's Bottom
818 Rhode Island Avenue Northwest
Washington, DC 20001
(202) 332-0200
barberofhellsbottom.com
by hodge
November 24, 2014 | No Comments